Torn Earlobe Repair in Long Island
Stretched and Torn Earlobe Specialist
Do you suffer from a torn or stretched earlobe? If so, Dr. Eckman can help! Torn earlobes are a fairly common injury requiring precise care for clean repair. Often, earlobes are torn when earrings or ear jewelry caught on another object, ripping through the tender skin of the lobe. Torn or elongated earlobes can be repaired with a simple surgery to not only fix the earlobe, but also to strengthen it. If your wound is fresh or still bleeding, you may be able to request emergency reconstructive repairs through our Rockville Centre dermatologist.
---
To schedule your torn earlobe repair appointment today, please contact our Rockville Centre dermatologist at (516) 272-4193 or book your appointment directly on ZocDoc.
---
Earlobe repairs involve:
Preparation-To prepare for your procedure, you will want to discuss any current medications with your doctor such as blood thinners or anything that may have a negative interaction with the local anesthetic or any post-op medications. You may also want to discuss what you want your earlobe to look like in the final result.
Administering a local anesthetic-This involves injecting a small amount of local anesthetic will keep the area numb during the procedure while keeping the patient awake. The anesthesia itself may take a few minutes to kick in and may last anywhere from 4 to 6 hours.
Clearing the wound of debris, if the wound is fresh-This will help prevent infection and help limit scaring.
Refreshing the wound site if this tear has healed over time-This involves removing old scar tissue and re-shaping your ear to a more desirable look. This will ensure that it can heal cleaner and with a smaller scar under proper post-op care.
Pressing the newly raw edges together-This will help to shape the earlobe into what you want and prepare it for suturing.
Applying fine sutures for even healing-This will ensure quick healing with minimal scaring. However, a small amount of bleeding is to be expected and some dressing may be needed. Depending on your suture material, you may need to schedule a follow-up appointment to have them removed.
Post-op care– You can expect recovery to take about a week from your surgery. Be sure to schedule a check-up one week after your procedure to make sure that you are healing correctly. Keep your wound dry for 24-48 hours, and be sure to use pain and swelling medication as directed. You may also be directed to take an antibiotic and vitamin C to promote healing. Be sure to sleep with your head elevated with two or three pillows and avoid any sort of straining for a week after your procedure. Be sure to avoid exposing your face to the sun and applying any sort of cosmetics to the site until your doctor says it's ok to do so.
Our Earlobe Procedure Can Fix:
Saggy ear lobes from heavy earrings-Some materials that are used to make earrings can stretch the skin and cause sagging over a long period of time.
Unsightly ear lobes caused by improper piercing or infection-Improper body modification techniques can lead to bad infection and possibly sever tissue damage.
Earlobe deformities-If you wish to reconstruct your ear due to the effects of a birth defect, we can help build an ear that you will be happy with.
Traumatic earlobe injury-We can help repair tears or punctures caused by accidental injury.
Expanded holes from intentional stretching / gauging and body modification-If you are looking to repair previously expanded ear holes from body modification, our services are available.
Earlobe repair treatments are growing in numbers for a variety of reasons. Whether you are looking to improve physical appearance and self-esteem due to deformity, sudden trauma or improper ear piercing techniques, we can help. We also help those that made decisions in their teenage years that are having a negative impact on acquiring a job or complying with employer standards.
Can I Re-pierce My Ear After I've Torn It?
Sometimes it is not possible to re-pierce the ear over the same site, as scar tissue buildup can make the lobe difficult to penetrate. As long as you have allowed your ear ample time to heal, you can usually have that lobe re-pierced in the future.
How is earlobe repair done?
During your procedure, your earlobe will be injected with local anesthetic to numb the area. Scar tissue that would have kept the injury from healing will then be removed, and your doctor will stitch the affected area in place.
How long does the procedure take?
In most cases, earlobe repair is relatively simple and quick, taking around 15 to 30 minutes for the whole procedure.
What are risks or complications of earlobe repair?
As with any medical procedure, there is some risk of infection. Be sure to follow post-op instructions to minimize your risk of post-op complications.
How long does earlobe repair recovery take to heal?
Healing time for ear lobe repair is usually around 4-6 weeks.
Who is a candidate for repair?
Anyone who is unhappy with their ear shape due to previous piercings, traumatic injuries, or birth defects.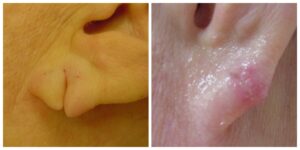 Contact our Long Island dermatologist for more information by calling (516) 272-4193 or book your appointment online via ZocDoc.
Long Island Dermatology has a $75 no show/ cancellation fee policy in place in our office unless office is notified 24 hours in advance of appointment time.
What Sets Us Apart?
Convenient Hours Including Weekend Appointments
Expert in Skin Cancer Detection & Treatment
Innovative, Comprehensive Skin Care
Pleasant & Comfortable Atmosphere
Advanced Cosmetic Treatments
Thorough, Professional Doctor
Board Certified Dermatologist
Over 20 Years of Experience